My name is Wouter Maathuis and I am Electric Superbike Twente's Team Manager. I joined this team because I was looking to further develop skills that are not addressed in my study program (which is Technical Medicine). My attention was drawn by the student teams because they are composed of a variety of people with a lot of different backgrounds. The fact that Electric Superbike Twente works on (one of) the fastest motorcycles made choosing one of the student teams not that difficult. I have always been interested in motorsport and speed so joining EST was a no-brainer.  
What is your personal goal this year?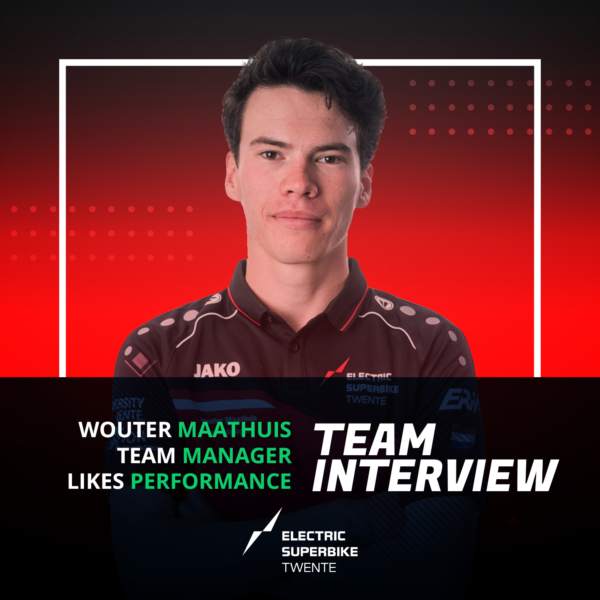 My goal is to get familiar with all aspects that come into play when managing a team of eighteen people. How do you keep everyone motivated? How do you keep an overview of everything that is going on in the team? How do you cope with unexpected problems? These are some of the questions that were going through my mind when I started. I think that my goal is to find the optimal balance between interfering with the subteams and letting everyone do their own thing.  
What is your biggest achievement as the team manager so far? 
This is a hard one. I find that my work is in general not that tangible. I try to keep the motivation high and steer the team away from potential pitfalls. The fact that we are getting closer together as a group is something that I am proud of.  
Do you believe that your superbikes will be able to beat MotoE bikes? 
Of course. All of our components are designed by us and tailors to our specific applications. This leads to us having a bespoke and state of the art motorcycle. This combined with the amount of energy that everyone puts into the team makes that I can only be optimistic. The motivation and drive of the team will make it happen; I am sure of it! 
What is your dream opponent? 
Our goal for this year is to beat MotoE bikes. However, I am also very curious how we would compete against internal combustion vehicles. Finding out what the key differences are in terms of power delivery, cornering ability and overall performance is something that I think would be very interesting to find out. With that in mind, something like a MotoGP bike or supercar would be really cool to race against! 
What do you experience managing a team of 18 people? 
The main thing I noticed was that I need to be in contact with a lot of different people. I remember being overwhelmed by the amount of questions that were asked to me during the first weeks. Once everyone settled into their function on the team, the benefits of a relatively large team became clear. It leads to a lot of different insights into problems and questions. This provokes discussions which lead to better and more creative solutions. However, a large team also requires good communication and a clear structure. I think that that is one of my challenges for this year.