Hi, my name is Tom. I am 21 years old and I finished my bachelor's degree in mechanical engineering last summer. This academic year, I am fully focusing on my role of chassis engineer at the most exciting student team in Twente and putting my theoretical knowledge into practice to showcase the world the breathtaking potential of electric racing.
What is your favorite part of one of the bikes?
As a mechanical engineer my heart always skips a beat when talking about high-end metals, especially when they are combined with 3d printing. That is why the footpegs of the Delta-XE really spark my joy. Additive manufacturing paved the way for a topology optimization study which boosted the strength to weight ratio to its maximum. Resulting in a 50% weight reduction with the added bonus of a gorgeous looking design.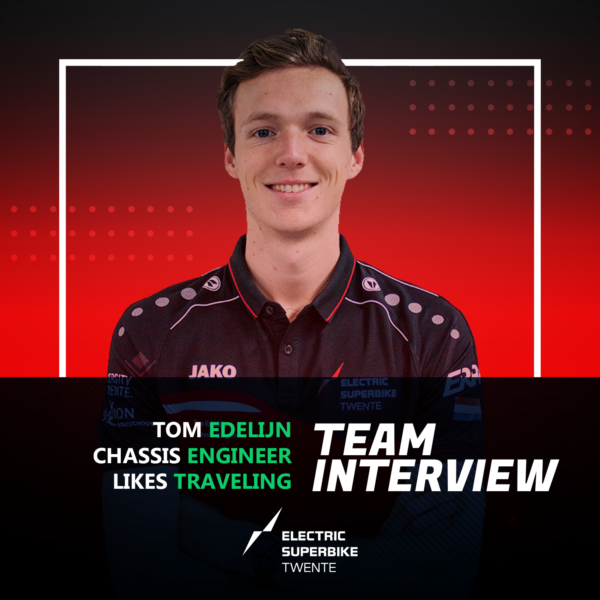 Do you believe in the superbikes you produce?
That is an immediate yes! First of all, it is guaranteed that electric bikes will overtake the market within a couple of years; in the same fashion it is happening to cars now. More importantly, the Delta-XE promises a noteworthy increase in performance on paper. Working on the Delta-XE for the past months has convinced me that racing this bike on the circuit will be a thrilling experience I will not forget for a long time.
Do you think the chassis team has enough potential to reach the goal you have in mind?
Most definitely! I believe the previous team did a magnificent job at selecting our chassis team. Although the team exists solely out of mechanical engineers, we all specialize in certain areas. Additionally, some of us love to dive deep in the textbooks to find the optimal solution while others tend to take the more practical approach. In other words, all ingredients are there to reach our goal of beating a MotoE superbike.
Do you prefer the Delta-XE or the Apex-RS?
This is a bit of a trick question: Do you prefer the pioneer or its younger, faster, more agile and safer brother? I think the Apex-RS was a huge step in the right direction, showcasing what electric racing is all about. The Delta-XE is there to learn from the tiny mistakes made and to maximize its potential even further. Moreover, it could not have existed without its predecessor. That is why I love both of them equally.