I'm Max, 21 years old and my role in the team this year is Powertrain Engineer. I'm almost done with my studies "Creative Technology". I really like to build things with electronics and to work with my hands. I'm really excited to work on this large project for a year and look forward to gaining more professional skills.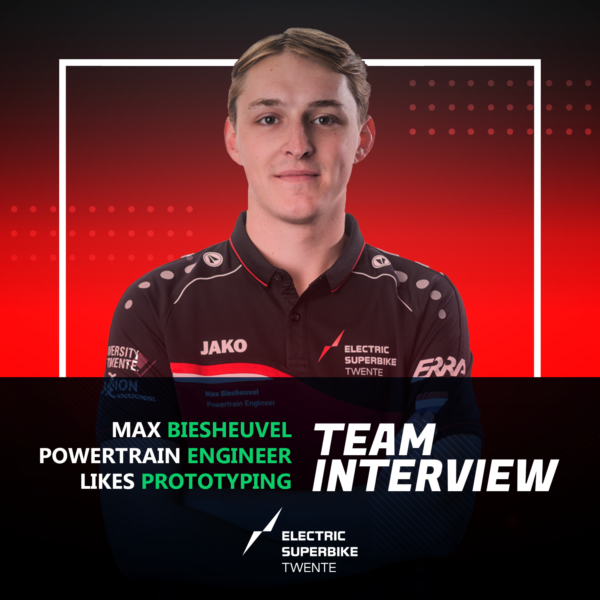 Can you compare the power of our superbikes to something we know?
Something we joke about at EST is that the power available in our battery pack is able to power about 60 washing machines at the same time. Furthermore, the electromotor is able to deliver 205bhp instantly which is on par with for example, the Yamaha YZF-R1, a 1000cc Superbike frequently used in professional motorsports.
Do you think electric superbikes will beat Moto-GP lap times?
As technology progresses, the electric superbikes will become more and more advanced. I think, it will not take long for the electric motorcycles to beat the petrol bikes. For this, however, still a lot needs to happen. Large racing teams will have to invest into building and racing electric bikes.
What would you want to change on the bikes if you were in charge and had unlimited budget?
Make them faster and more powerful than ever! Equip them with the best components and materials that are available. Also, work together with the most progressive companies to develop new technologies for electric motorcycles.
What is the most fun encounter while being part of EST?
Answer: With EST we attend a lot of events, while this is mostly intended to show what our team has to offer and making new connections, it is also a lot of fun! The most fun encounter was when we were invited to visit the VIP-box of our racing driver Finn de Bruin at TT Assen. He is a really great guy and it was very awesome to watch a real motor race.
What is the biggest pro about using an electromotor instead of a petrol powered one?
Answer: Next to being the more environmentally conscious choice, electromotors have another big pro. Electric motors have instant torque. That means you receive a burst of speed as soon as you hit the accelerator. This makes for a really fun driving experience.