Hi, I'm Ralph. I'm the current external relations and finance of Electric Superbike Twente. My job is to get into contact and maintain contact with partners. Next to that, I'm also in charge of the finances. This means I make sure that the invoices are paid and that the budget correct. I am doing a gap year from my Masters electrical engineering with the robotics and mechatronics specialization.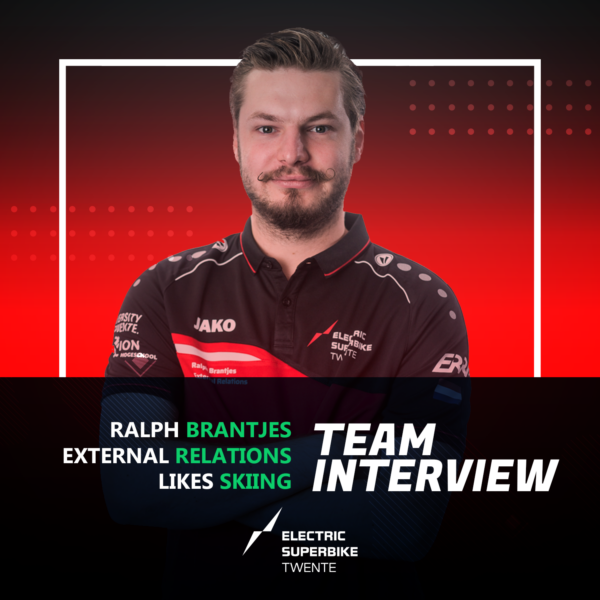 What is your opinion on electric racing?
I think electric racing is great. It enables faster acceleration and it is just as exciting as other types of racing except that it is more sustainable. The only downside is the different engine noise. However, this means that electrical vehicles comply to sound regulations meaning that races can be held year round without disturbing the environment. Electric racing also means being at the forefront of new technical developments that will trickle down to normal vehicles in the future.
Name a partner you personally value a lot.
One of the partners I value a lot is Ten Kate Racing Products. That is because they are one of our first partners and they have helped us a lot throughout the years. Without them it would have been a lot harder to be able to get all the parts for a fully fledged motorbike.
What is the most fun thing to do as the External Relations of EST?
For me, it is visiting the broad spectrum of different companies. It is really fun to see the different environments and atmospheres of all our partners.
What is the funniest encounter while being part of EST?
I don't really have a specific encounter that was funny but within the team the atmosphere is great. Besides working hard we also have a lots of fun and many inside jokes and funny moments. I would say that the whole team is what really makes me happy.
What is a company you would like to become partners with? And Why?
Red Bull would be a company I would really like as our partner. The reason behind this is because I am a big Formula 1 fan and so having a company that is a competitor in the highest racing class would be great. Next to that, they have a certain daring and extreme sports image to them which would fit the fastest electrical superbike very well.